Ruskin Elementary School
Ruskin Science Fair 2016
The Ruskin Science Fair is coming soon. Participation forms have been sent home, so please turn them in to your teachers if you are doing a science project. The Science Fair projects will be due on Tuesday, May 10th.
BrightBytes Technology SURVEY
Dear Parents and/or Guardians of Ruskin Students,
We are partnering with BrightBytes, an educational research and analytics company, in order to learn more about our students' school and home technology use for learning.
We are reaching out to ask you to take part in our Ruskin/Berryessa questionnaire. Your participation is essential in helping us form a more complete picture of technology use for learning in our students' lives. Please know that all of your responses will remain anonymous to protect your privacy and they will help your child's school choose the right technology for their classrooms. It will take approximately 5 minutes to complete.
The LAST DAY to complete this questionnaire is NOVEMBER 23, 2015, MIDNIGHT.
Please go to
BBYT.ES
and enter in this 5-character code:
HE6XP
Thank you for taking part in this important initiative!
Sincerely,
Parisa Nunez
Principal
Principal's Message
Our school, as well as other schools throughout the state, faces budget reductions that threaten to change our public education system in California. At the same time, our mission to educate and inspire each student to succeed and contribute to the world around them has not changed. Our challenge will be to continue providing a high quality education with fewer resources.
As we have faced tough budget times in the past, Ruskin has continued to provide the best that it can, for all students. This is possible because of our dedicated staff, our committed parents and our community partners who continue to give, not only financially, but of themselves. If you have not had an opportunity, I encourage you to view the district's Budget updates. It is indeed a daunting task, but one which we will overcome, by working together.
While we could certainly benefit from more resources, the fact that test scores continue to go up, speaks volumes about the commitment of our staff, families and community to ensure a rich and appropriately challenging educational experience. The passion for learning runs deep. It is this passion and commitment by our community as a whole, that will allow us to survive these unprecedented budget reductions.
Together, we will emerge a leaner, more focused school system that continues to improve teaching and learning for all our students. Thank you for your continued support of not only Ruskin School, but the Berryessa Union School District.
T

ogether,

E

veryone

A

chieves

M

ore!
2011 National Blue Ribbon School
2010, 2006 and 1987 recipient of the California Distinguished School Award
Ruskin was named a
2011 National Blue Ribbon School!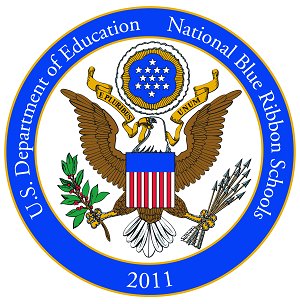 Ruskin was one of only 21 California schools - 20 public and 1 private - that qualified for the honor.

Nationally, only 305 schools qualified.