Ruskin Elementary School
Support Ruskin by Purchasing Scrip Gift Cards!
Ruskin PTA Scrip gift cards are a great way to help our school!
Thank you for supporting Ruskin Elementary and its students!

Ruskin LUG Lego Challenge #1 - 11/5
Ruskin will be hosting its first LEGO Club Show. Ruskin LUG (Lego User Group) is designed to be a fun, interactive and collaborative community which centers on sharing and displaying the creative young minds at Ruskin.
Our first Show will take place on Thursday, November 5 (time TBD) and will celebrate the theme of "Fall" or "Autumn". Appropriate MOCs (My Own Creations), another name for any Lego created display, may include hayrides, trick o' treating, pumpkins, falling leaves, scarecrows, football, etc.
Please note: Ruskin will NOT providing any Lego bricks; you must use your OWN for this challenge! More info can be found on the Registration Form.
LAST DAY to REGISTER is 10/30.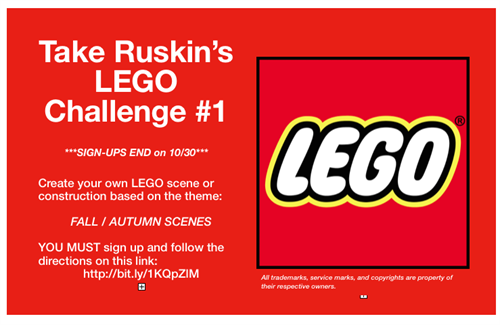 Principal's Message
Our school, as well as other schools throughout the state, faces budget reductions that threaten to change our public education system in California. At the same time, our mission to educate and inspire each student to succeed and contribute to the world around them has not changed. Our challenge will be to continue providing a high quality education with fewer resources.
As we have faced tough budget times in the past, Ruskin has continued to provide the best that it can, for all students. This is possible because of our dedicated staff, our committed parents and our community partners who continue to give, not only financially, but of themselves. If you have not had an opportunity, I encourage you to view the district's Budget updates. It is indeed a daunting task, but one which we will overcome, by working together.
While we could certainly benefit from more resources, the fact that test scores continue to go up, speaks volumes about the commitment of our staff, families and community to ensure a rich and appropriately challenging educational experience. The passion for learning runs deep. It is this passion and commitment by our community as a whole, that will allow us to survive these unprecedented budget reductions.
Together, we will emerge a leaner, more focused school system that continues to improve teaching and learning for all our students. Thank you for your continued support of not only Ruskin School, but the Berryessa Union School District.
T

ogether,

E

veryone

A

chieves

M

ore!
2011 National Blue Ribbon School
2010, 2006 and 1987 recipient of the California Distinguished School Award
Ruskin was named a
2011 National Blue Ribbon School!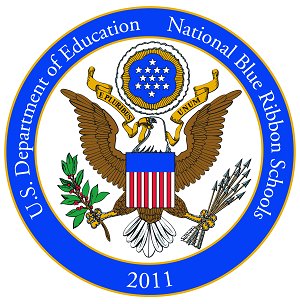 Ruskin was one of only 21 California schools - 20 public and 1 private - that qualified for the honor.

Nationally, only 305 schools qualified.